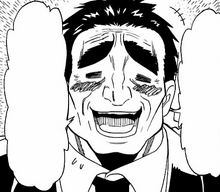 Amanashi Takeshi is a minor character in the Nisekoi series. He only made an appearance throughout Chapter 101 and is part of the Shūei Clan. Raku Ichijō helped Amanashi to open up his dream Cake Shop, Sweets Syūei. Sweets Syūei is located right across the Onodera Japanese Sweets Confections, which caused both stores to have a rivalry against each other.
Ad blocker interference detected!
Wikia is a free-to-use site that makes money from advertising. We have a modified experience for viewers using ad blockers

Wikia is not accessible if you've made further modifications. Remove the custom ad blocker rule(s) and the page will load as expected.