Celebration
japanese title

オイワイ

translation
Oawai

Production information

Scenario
Yukito Kizawa
Storyboard
Xing Kanezaki
Production
Atsuhiro Iwakami; Hiro Maruyama; Hiroyuki Kiyono; Mitsutoshi Kubota
Directed by
Akiyuki Simbo; Naoyuki Tatsuwa

End card

 Amakura Surume
Broadcast information
Japanese broadcast
March 22, 2014
Crunchyroll
Watch Here
Hulu
Watch here
Episode chronology
← Previous Episode
Lottery
Next Episode →
Confirmation
Celebration (オイワイ, Oawai) is the 11th episode of the Nisekoi series that is originally written and illustrated by Naoshi Komi as a manga. The episode premiered on March 22, 2014.
Overview
Edit
 When Tsugumi plans a surprise birthday party for Chitoge, and invites Raku and his friends, Ruri makes Kosaki go with Raku to shop for a gift for Chitoge. Raku finds his time with Kosaki to be fleeting, but Kosaki shows Raku a scenic overlook. When Raku asks Kosaki if she is the promised girl from ten years ago, she answers yes, and as they were about to confess, they are interrupted by a phone call. At the party, after receiving her friends and family's gifts, Chitoge asks Raku about his feelings for the promised girl and whether he recognizes the phrase "Zawsze in Love". 
Characters
Edit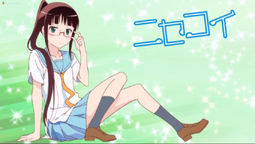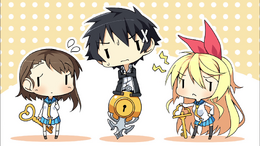 Episode Notes
Edit
Character Revelations
Edit
Difference between anime and manga
Edit