Confirmation
japanese title

カクニン

translation
Kakunin

Production information

Scenario
Miku Ooshima
Storyboard
Takahiro Tada
Production
Chokusei Ryuwa
Directed by
Akiyuki Simbo; Naoyuki Tatsuwa

End card

 Mizu Tamago
Broadcast information
Japanese broadcast
March 29, 2014
Crunchyroll
Watch Here
Hulu
Watch here
Episode chronology
← Previous Episode
Celebration
Next Episode →
After School
Confirmation
(カクニン,
Kakunin
) is the 12th episode of the 
Nisekoi
 series that is originally written and illustrated by 
Naoshi Komi
 as a manga. The episode premiered on March 29, 2014.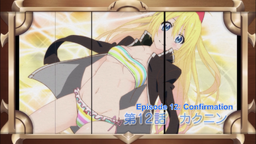 Overview
Edit
 Chitoge reveals that she has a key that could unlock Raku's locket, but when they try to unlock it, her key breaks. While Raku's locket is being repaired, Raku thinks about who might be the one he made a love promise to. Chitoge's father mentions that he recognized Kosaki from the past as the three were friends ten years ago. As Raku comes home, Raku's father mentions he has a photo of the girl that Raku made a promise to ten years ago.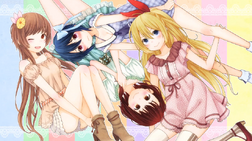 Characters
Edit
Episode Notes
Edit
Charcter Revelations
Edit
Chitoge may be the promise girl.
Chitoge acts like an incident never happened the day after.
Raku's father knows of a picture of the promise girl.
Difference between manga and anime

Edit
The moon on Chitoge's key is faced down in the anime. In the manga, it's faced right.
In the anime, Raku falls from a cliff (in his head) after Chitoge breaks her key into his pendant.
The hallway that Raku and Adelt meet in in the anime are different compared from the manga.
As Chitoge and Kosaki meet up again after returning from the balcony in the anime, the two have more dialogue with each other.
After imagining Kosaki being the promise girl, Raku imagines Kosaki with his last name, Ichijō, in the anime.
When Raku puts his hand on Chitoge's shoulder, Chitoge's pupils form into Mickey Mouse in the anime.