Home Visit
japanese title

ホウモン

translation
Hōmon

Production information

Scenario
Munemasa Nakamoto
Storyboard
Junichi Takaoa
Production
Tarō Kubo
Directed by
Yoshiaki Ito; Kayo Nomichi

End card

Hekiru Hikawa
Broadcast information
Japanese broadcast
February 1, 2014
Other airdates
October 27, 2018 (United States)
Crunchyroll
Watch Here
Hulu
Watch here
Episode chronology
← Previous Episode
Similar
Next Episode →
Swimming
Home Visit
(ホウモン,
Hōmon
) is the fourth episode of the
Nisekoi
series that was originally written and illustrated by
Naoshi Komi
as a manga. The episode aired on February 1, 2014.
Overview
Edit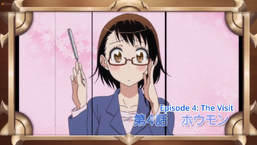 Ruri
invites 
Raku
 and his friends to hold a study group on Raku's room to help
Kosaki
with her feelings. When Raku thinks about Kosaki's feelings towards him, the Yakuzas peeking from outside his room begin suspecting that his relationship with 
Chitoge
 is a fake. To help advance them as a couple, they trap Raku and Chitoge inside the Ichijō warehouse. As they spend time together in the warehouse, Raku learns that Chitoge is afraid of the dark and lead her to holding on to him. Raku comforts her and the two are able to bond a little. Chitoge calms down after chatting with Raku and has the courage to climb up the ladder to get out of the shed but trips unto Raku. As they were about to kiss each other,
Claude
opens the shed to save Chitoge but sees them in their position. Unfortunately, Kosaki and Ruri witness this scene as well. In Chitoge's room, Chitoge looks at her notebook open to a page about Raku's bad qualities but decides to write that he may have good qualities.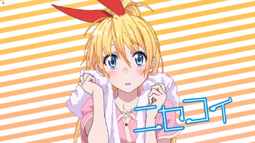 Mini Episode Overview
Edit
Kosaki leaves Ruri and
Shū
alone in the room to go to the bathroom. Ruri talks with Shū about the weird relationship Raku and Chitoge has and becomes suspicious about their real relationship with each other. She asks Shū if he knows anything between the two but he dismisses it. As the two spend longer time together, Ruri gets more and more annoyed by Shū's presence.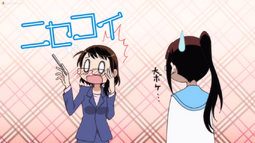 Characters
Edit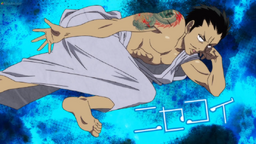 Episode Notes
Edit
Character Revelations
Edit
Chitoge is hown to be very smart and does well in school.
Chitoge is afraid of the dark due to an incident as child of being stuck in a washing machine for five hours.
Difference between manga and anime
Edit
The warehouse is designed more detailed in the anime.