Nisekoi: Inside Stories (ニセコイ:ウラバナ, Nisekoi: Urabana) is a light novel written by Hajime Tanaka and illustrated by Naoshi Komi. It tells four stories of the main protagonist and secondary protagonists from the original Nisekoi manga series that is illustrated and written by Naoshi Komi.
Volume 1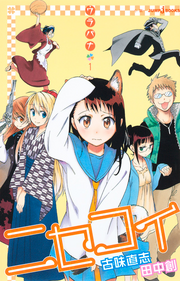 Chapters
Cat Ears (ネコミミ, Neko Mimi)
Go-Getter (スゴウデ, Sugoude)
Couple (カップル, Kapparu)
High Collar (ハイカラ, Haikara)
Afterword (アトガキ, Atogari)
Volume 2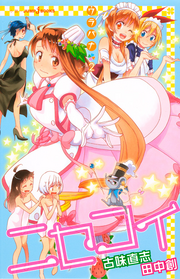 Chapters
Japanese release date: December 28, 2013
ISBN: 978-4-08-703307-6
Cost: 650円
Black Tiger (クロトラ, Kurotori)
Misinformation (ゴホウシ, Gohoushi)
Ghost (ユーレイ, Yūrei)
Magical (マジカル, Majikaru)
Afterword (アトガキ, Atogaki)
Ad blocker interference detected!
Wikia is a free-to-use site that makes money from advertising. We have a modified experience for viewers using ad blockers

Wikia is not accessible if you've made further modifications. Remove the custom ad blocker rule(s) and the page will load as expected.