Showtime
japanese title

ホンバン

translation
Honban

Production information

Scenario
Yukito Kizawa
Storyboard
Takashi Kawabata
Production
Takashi Kawabata
Directed by
Kazuya Shiotsuki; Akihisa Takano; Junichi Takaoka; Hatsue Nakayama

End card

KEI
Broadcast information
Japanese broadcast
May 24, 2014
Crunchyroll
Watch Here
Hulu
Watch here
Episode chronology
← Previous Episode
The Play
Next Episode →
Loss/Shrine Maiden
Showtime
(ホンバン,
Honban
) is the 20th episode of the
Nisekoi
series that is originally written and illustrated by
Naoshi Komi
as a manga. The episode premiered on May 24, 2014 and is the last episode of season 1.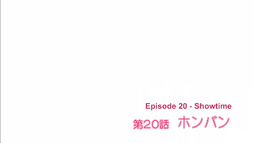 Overview
Edit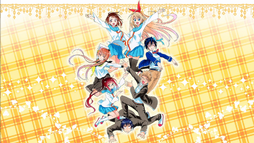 With
Chitoge's
inclusion into their cast, the play commences with
Shū
as the narrator taking their performance into a comedic turn, adding nonsensical subplots into the play's story for the enjoyment of the audience but for the chagrin to some of its casts. Nevertheless, the play finishes, gaining warm admiration from the audience while Chitoge recognizes her true love for
Raku
. With their usual relationship back in place, Chitoge apologizes to Raku for her harsh behavior and adds that she will still be herself in front of him. During a conversation with
Kosaki
, Raku takes notice of Kosaki's desire of playing the role of Juliet. To compensate for not having played her role, Raku and Kosaki reprise their roles as Romeo and Juliet respectively and did a private play for themselves as Chitoge looks into the horizon and remarks the conclusion of their memorable cultural festival.
Characters
Edit
"Of course...I abhor you. - Chitoge Kirisaki"

Episode Notes
Edit
Character Revelations
Edit
Differences between anime and manga
Edit
The ballerinas and people dressed in sparkling body suits don't appear in the manga.
In the manga, Claude corners Raku against the wall but in the anime, he corners him against a column.